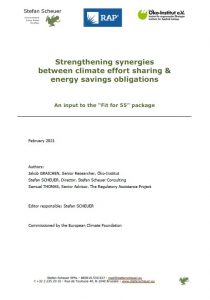 The new 55% climate target will bring major revisions of the EU's energy and climate laws. Quite opposing policy options are on the table. Strengthening the existing policy architecture or moving to a carbon price all-out approach. This new study informs the discussion about these options. It looks at the interactions and synergies between three of the key policy instruments: Effort Sharing Regulation (ESR), EU Emission Trading System (EU ETS) and the energy savings obligations in Article 7 of the Energy Efficiency Directive (EED).
The study clearly shows that the ESR is an important driver for national action to deliver energy savings and thus to ensure cost-effective and equitable GHG reductions (see info graphic).
The study assesses different scenarios with more ambitious ESR targets for Member States and with an increased level of energy savings under Article 7. Most countries would need to fully deliver their EED energy savings obligation in order to meet the ESR targets, not only with the current level of 0.8% savings per year but with an increased level of 1.6%.
The study has been carried out over the last months by Stefan Scheuer Consulting, the Regulatory Assistance Project and Öko-Institut.
The authors say:
Stefan SCHEUER: "The ′Fit for 55′ package is a unique opportunity to improve the coherence of the EU's climate and energy efficiency policies. The ESR is essential to maximise the synergies between the different legislative instruments. Higher national GHG targets will secure national efforts needed to address market failures and barriers to energy efficiency investments together with the EED energy savings obligations."
Samuel THOMAS: "The energy savings obligation under the EED's Article 7 will at least need to be doubled in order to meet the 55% climate goal: from the current 0.8% to 1.6% starting in 2025. These need to be energy savings on the ground, accurately measured and verified, and fully additional to EU measures. Energy savings obligations can ensure meaningful national contributions in unlocking the cost-effective abatement potential of energy efficiency."
Note: Climate campaigners launched a petition to support national climate targets in the 'Fit for 55' package (https://www.everybodycounts.eu/) ahead of the Commission's public consultation on the ESR ending on 5 February 2021.
Jakob GRAICHEN, Stefan SCHEUER, Samuel THOMAS: Strengthening synergies between climate effort sharing & energy savings obligations, an input to the "Fit for 55" package, February 2021