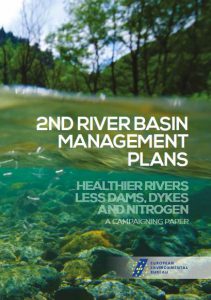 The Water Framework Directive (WFD) that the European Union adopted in 2000 is a formidable instrument to effectively address the pressures on European freshwaters in a holistic and integrated way.
Thanks to this common European framework and the adoption of the first generation of River Basin Management Plans (RBMPs), some progress has been achieved. The improvements have however been relatively modest and significantly below original expectations. The target of getting all European waters in good condition by 2015 will indeed be missed by far – about half of European surface waters are in fact unlikely to reach good ecological status in 2015.
The second RBMPs, which are currently under development in the Member States and will cover the 2016-2021 period, need to build on the lessons drawn from the first generation of Plans and include the measures required to speed up progress towards achieving the Directive's objective.
In order to support citizens and citizens' groups involved in the ongoing public consultation on the draft plans, the EEB has put together this publication building on the experience of its members with WFD implementation. We hope that it will help environmental NGOs as well as other interested members of the public in critically scrutinizing the draft plans and making constructive proposals. This will help to ensure that we have second RBMPs that truly deliver the measures needed to achieve good status in all bodies of surface water and groundwater by the end of 2021.
Concept and development: Stefan Scheuer Consulting
Written by: Stefan Scheuer and Leonardo Mazza