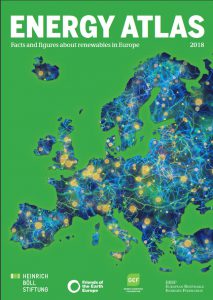 Heinrich Boell Foundation in cooperation with the Green European Foundation, European Renewable Energies Federation and Le Monde Diplomatique publishes the European Energy Atlas 2018.
EU Member States are discussing their energy and climate strategy until 2030. Are these measures currently being negotiated in Europe enough?
The European Energy Atlas provides a compass on the different energy discussions in different Member States but also reveals how a Europeanization of the energy transition will be the more efficient and cost-effective option for all Europeans.
Stefan Scheuer and Marion Santini contributed to the chapter on energy efficiency. Learn more about the project here.
Heinrich Boell Foundation, 2018, Energy Atlas 2018: Figures and Facts about Renewables in Europe