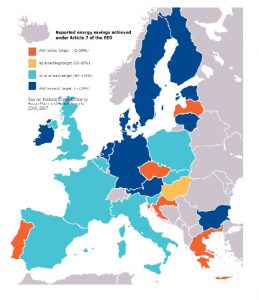 The Energy Efficiency Directive sets a requirement for Member States to put in place policies and measures to deliver each year from 2014-2020 new end-use energy savings worth 1.5% of energy sales (Article 7).
This report aims to assess and map national progress towards the Article 7 target.
It looks at the cumulative savings reported in 2014-2015 and compares them with the Article 7 targets notified by Member States.
Eero Purontaus, Stefan Scheuer, 2017. Energy savings under Article 7 of the Energy Efficiency Directive – Assessment of national progress reports and positions