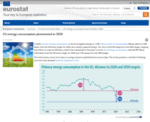 Eurostat data for Final Energy Consumption (FEC) and Primary Energy Consumption (PEC) 2020 are published. As expected, they show a sharp drop in energy consumption for 2020.
Eurostat displays the data as "outperforming" the 2020 energy efficiency target of the EU. This presentation is a superficial and misleading reading.
Covid response measures resulted in a GDP slump, with a strong impact on energy use. Energy consumption dropped in particular in the transport sector. Furthermore, 2020 was a very warm year with a low energy consumption for heating.
GDP and climate are strong drivers for energy consumption. They need to be considered when interpreting energy consumption development. The decoupling graph below shows this relation. 2020 FEC and PEC figures are put in relation to heating degree days and GDP:
The 2020 energy consumption figures should not distract us from the fact that Member States are not on track on to meet EU energy and climate goals. Improving the legislation on energy efficiency, and in particular the target governance and enforcement mechanism, is more urgent than ever.
Stefan Scheuer Consulting has published an assessment of the Fit for 55 package, with recommendations how to ensure target achievement in the future.