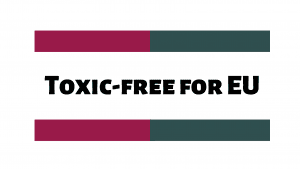 Toxic-free for EU is a new weekly briefing on EU politics and chemicals regulatory affairs, brought to you by CHEM Trust.
Chemicals policies are moving into the limelight as the European Commission is expected to publish next year a proposal for revising the main EU chemicals law, REACH. This proposal shall then move to the European Parliament and Council.
At the centre of the Commission's reform plans are new regulatory instruments to ensure everyday consumer products are free from the most harmful chemicals. It includes the first revision ever of the REACH regulation from 2006 and the updating of the laws on classifying chemicals to introduce new hazard classes for hormone disrupting and chemicals that create persistent pollution.
The process of creating the EU's modern REACH chemicals rules was very controversial twenty years ago. We expect something similar this time around.
With this weekly briefing, we intend to provide orientation and guidance through the upcoming decision-making procedures on these revised laws. We will report on proposals, positions, arguments and solutions on how to achieve an effective and efficient legal framework for toxic-free products in Europe.
If you are interested in receiving our weekly update, please subscribe here!
N°43 – The Brussels' EU quarter is drinking PFAS-contaminated water, 1st December 2023
N°42 – European Parliament charges ahead to ban PFAS in food packaging, 24th November 2023
N°41 – Slow go on the Chemicals restriction roadmap,  17th November 2023
N°40 – Lead MEPs raise expectations on toxic-free toys, 10th November 2023
N°39 – Environment Committee wants a rapid ban of 'forever chemicals' from food contact packaging, 27th October 2023
N°38 – Šefčovič worried about green transition and competition: REACH revision left to next Commission, 20th October 2023
N°37 – EU ban on F-gases: a climate law that also reduces forever chemical pollution, 13th October 2023
N°36 – Commission keeps REACH revision in limbo: Šefčovič promises hard work but delivery remains uncertain, 6th October 2023
N°35 – German chemical industry gets summit, but not the wanted outcome, 29 September 2023
N°34 – REACH revision: a first test for the incoming Green Deal Commissioner, Šefčovič, 22th September 2023
N°33 – Sinkevičius questions if REACH revision ready under this mandate, 15th September 2023
N°32 – Scholz holds summit for chemical industry in crisis, 8th September 2023
N°31 – Health benefits from toxic-free products ten times higher than industry costs, 14th July 2023
N°30 – Dutch politicians angry at Chemours over PFAS pollution cover-up, 7th July 2023
N°29 – Universal ban of 'forever chemicals' caught in ineffective procedures, 30th June 2023
N°28 – Forever chemicals group PFHxA up for a ban in certain articles, industrial uses off the hook  23rd June 2023
N°27 – Conservatives keep trying to halt the Green Deal, 16th June 2023­
N°26 – Commission announces damage control on toxic bisphenol A in food packaging, 9th June 2023
N°25 – Green transition, PFAS industry grasping at straws, 2nd June 2023­
N°24 – Environment Commissioner highlights the chemicals pollution crisis, 12th May 2023
N°23 – EU trade in chemicals accelerated in 2022, 5th May 2023
N°22 – Restrictions roadmap puts the failure of the chemicals policy in the limelight, 28th April 2023
N°21 – French leaders under pressure on the REACH revision, 21st April 2023
N°20 – German doctors call on von der Leyen to revise REACH, 14th April 2023
N°19 – Toxic-free investments in consumer products at risk, warns company, 7th April 2023
N°18 – Waiting for REACH: lawmakers and stakeholders warn of negative impacts of the Commission's delays,  31st March 2023
N°17 – Commissioner Sinkevičius hopes for a REACH revision publication by summer, 24th March 2023
N°16 – REACH revision stuck in Commission politics, 17th March 2023
N°15 – Universal PFAS restriction proposal by Member States is published, 10th February 2023
N°14 – REACH revision delay: industry and NGOs call for regulatory certainty, 3rd February 2023
N°13 – PFAS everywhere, now in Danish eggs: nothing safe, 27th January 2023
N°12 –  Toxic tableware: Melamine caught by the EU list of substances of very high concern, 20th January 2023
N°11 – A first global target for chemical pollution under the Biodiversity Framework, 13th January 2023
N°10 – Commission gets cracking at the Chemicals Restrictions roadmap – first stop: carcinogens in childcare articles, 9th December 2022
N°9 – ECHA gives green light to ban lead in shooting and fishing, 2nd December 2022, 2nd December 2022
N°8 – Classification of endocrine disruptors opened to the use of non-animal data, 25th November 2022
N°7 – REACH revision passes impact assessment test, 18th November 2022
N°6 – Flemish government turns green following PFAS pollution scandal, 11th November 2022
N°5 – Consultation shows broad support for CLP new hazard classes, 28th October 2022
N°4 – Nobody happy with the REACH revision delay – Commission rows back, 21st October 2022
N°3 – The Chemicals Strategy for Sustainability – two years on and the heavy lifting still to come, 14th October 2022
N°2 – European Parliament rejects a regulatory moratorium on REACH, 7th October 2022
N°1 – A brand-new weekly briefing on EU politics and chemical regulatory affairs, 30th September 2022